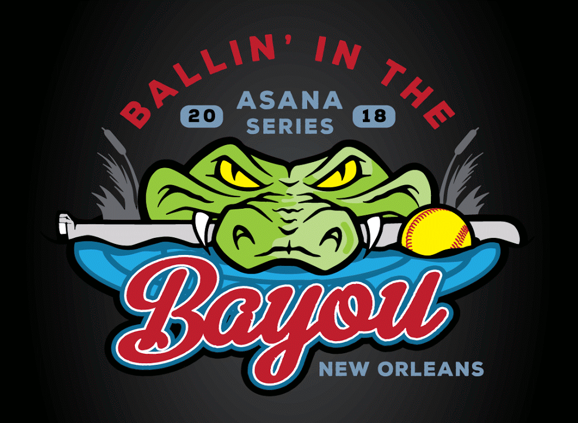 Each year ASANA partners with a Host City to deliver the ASANA Softball World Series, one of the largest, annual female sporting events in the world. Over 1,500 athletes, coaches and fans from 25 member cities across North America travel to compete and celebrate equality one game at a time. In 2018 ASANA will be celebrating it's 11th year when the Series takes place in New Orleans September 17th - 22nd.
Schedule:
Sunday, September 16th:
Monday, September 17th: 
Tuesday, September 18th: 

12pm - 3pm: Bat Check, Omni Riverfront 
4pm - 5pm: Managers Meeting, Omni Riverfront 
5pm - 6pm: Umpires Meeting, Omni Riverfront 
6pm - 10pm: Opening Party & Player Registration, Mardi Gras World

Two shuttle buses will run continuously from the Omni Riverfront to Mardi Gras World from 5:30 - 10pm. This is free to all ASANA guests!

Wednesday September 19th:

8am: Pool play begins, Val Reiss Park
7:15am - 4pm: Bat Check, Val Reiss Park
7:15am - 4pm: Player Registration, Val Reiss Park
7:30pm: Hall of Fame Dinner, Riverview Room (Tickets on sale now!)

Thursday September 20th:

Pool play continues, Val Reiss Park
Player Registration, Val Reiss Park
C & D Bracket play begins, Val Reiss Park

Friday, September 21st: 

B, C, D, E Bracket play, Val Reiss Park
Player Registration, Val Reiss Park
PINK day, supporting Breast Cancer Awareness: All teams are encouraged to wear PINK in support of breast cancer awareness. All uniform rules remain the same. If a team chooses to wear a special uniform that is great, but please make sure it conforms to regular uniform rules. All can wear pink wrist bands, hats, shoe laces, shoes, arm sleeves, etc!
Friday Night Lights, Val Reiss Park

Saturday, September 22nd: 

Championship Play, Val Reiss Park

Sunday, September 23rd:

Notes: 
Pool play will run Wednesday - Thursday. C and D divisions will begin bracket play on Thursday afternoon. B and E divisions will begin bracket play on Friday morning. 
All players must register in person prior to playing in their first game. Registration will be available at the Opening Party and at Val Reiss Park.
ID Checks - In addition to championship game ID checks, ASANA may randomly check IDs for players throughout the series for any reason or for no reason. Please make sure your team has their IDs with them for all games. 
Hotel & Ballpark Safety Information can be found here.
Interested in helping? 
The Host City Committee is looking for volunteers to help us on the ground in New Orleans September 18th - 22nd. Even a few hours helping with set-up, score collection, events, etc can really make a difference and lessen the load for all. Please fill out the form so we can add you to our list! Once teams and schedules are finalized for the week we will follow-up with specific assignments so everyone can plan accordingly. Please also share with your local leagues. We thank you in advance for your help!
Questions? Please email Tarah at secretary@asanaseries.org.